Tuesday, 27

October

201

5
6.00 - 9.00 PM
The Randwick Literary Institute,
60 Clovelly Road, Randwick 2031
RSVP: memoirclubsydney@gmail.com
'

The Intervention to us was like Australia declaring war on us and in the process they demonised and dehumanised
Aboriginal men women and children.'

This month the Memoir Club presents award-winning author Rosie Scott in conversation with Beth Yahp about Rosie's latest book: The Intervention: An Anthology, co-edited with Anita Heiss. The book is a compelling challenge to the 2007 NT Intervention by the Howard Government and its ongoing breach of human rights.
Rosie Scott and Anita Heiss gathered the work of twenty of Australian's finest writers, Indigenous and non-Indigenous, together with powerful statements from Northern Territory Elders. In compelling fiction, memoir, essays, poetry and communiqués, the dramatic story of the Intervention and the despair, anguish and anger of the First Nations people of the Territory comes alive.
Image from http://www.treatyrepublic.net/node/55
Many of these stories are about how people's lives are lived and their experiences determined by forces beyond their control, usually out of sight of mainstream Australia. Rosie Scott, a writer, teacher, mentor and activist, has long experience in listening to and enabling the telling of such stories, through her own writing and
the anthologies she co-edited with Tom Keneally, Another Country (2005) and A Country Too Far: Writings on Asylum Seekers (2013).
'

My writing is fuelled by me as a totality, but also by my political feelings,
'

Rosie writes.
'

I'm particularly interested in writing about the outsiders of society, people way outside my own experience.
'

Join us for a discussion of Rosie Scott's new anthology of moving, impassioned, spiritual, angry and authoritative documentation of a most controversial event, as well as the way her own
'

totality' and 'political feelings' have influenced the writing life and work of this committed and inspirational author.
Dr Rosie Scott is an internationally published award-winning writer who has published six novels, short stories, poems, essays, a play and three anthologies. Rosie, who is well known and admired for her commitment to social justice, was nominated with Tom Keneally for the Human Rights Medal, and awarded the 2015 STARTTS Humanitarian Award for her work with refugees. She was co-founder of Women for Wik in 2007.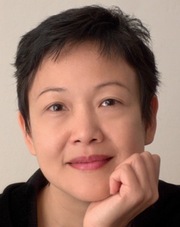 Beth Yahp

is an award-winning novelist, who has also published non-fiction and written for the stage and radio. She is a highly regarded teacher of creative writing, who currently teaches at the University of Sydney. Beth's memoir Eat First, Talk Later is forthcoming from Penguin Random House in September 2015.
When:
last Tuesday of every month.
Time:
6.00 - 9.00 PM (come for a cuppa and help us set up at 5.30 PM - please remember to bring your own cup!)
Where:
The Randwick Literary Institute, 60 Clovelly Road, Randwick 2031. Tel: 02-9398 5203 (for directions and venue info). Street parking available. Clovelly bus 339 on the doorstep. For how to get there, see: http://randwickliteraryinstitute.com.au/faqs/
What:
A communal space to meet other writers and readers and converse about all things to do with reading and writing memoir. We are interested in all kinds of life stories and in different ways of telling them. The genre of life writing and the possibilities of expanding and reworking the genre is exciting to us. Therefore we have a somewhat open and inclusive approach to what makes a memoir, and we hope you do too! Here is a space to connect with others and share ideas, questions and just hang out. Each meeting will start off with a talk, conversation or discussion about a particular topic or book, sometimes with a guest speaker or facilitator, then we move to an informal gathering and catch up.
Donation:
$15/$10 at the door for hall hire, refreshments and speakers.
Food:
$15 for a plate of delicious vegetarian finger food (different each meeting). Ring or text to book a plate: 0450 907 422.
Future Speakers:
Members Night of Readings (

September

), Beth Yahp (Novem

ber)
mem·oir /ˈmemˌwär/
Noun. A historical account or biography written from personal knowledge. An autobiography or a written account of one's memory of certain events or people.