Next meeting: Tuesday, 30 September 2014, 6.00 - 9.00 PM
The Randwick Literary Institute,
60 Clovelly Road, Randwick 2031
RSVP: MemoirClubSydney@gmail.com
Memoir Classic with Ross Gibson, speaking about
James Agee's
Knoxville: Summer of 1915
'We are talking now of summer evenings in Knoxville, Tennessee, in the time I lived there so successfully disguised to myself as a child.'—James Agee, Knoxville: Summer of 1915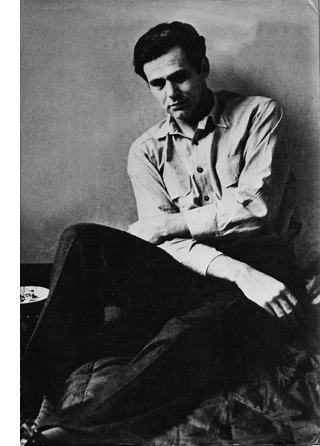 James Agee
Originally written in 1935 and published three years later in The Paris Review, James Agee's brief, lyrical evocation of life in Knoxville, Tennessee, over a long summer evening in 1915—a year before the author's own father's death in an automobile accident—has become a classic of American literature. Capturing a 'marvel of dailiness' from a five-year-old boy's perspective, Agee's prose has been described as 'wondrous'—'unabashedly poetic, sacramental in its embrace of reality, and rhythmical as rain on a Tennessee tin roof' (Will Blythe, The New York Times Sunday Book Review).
Legend has it that Agee wrote Knoxville in one 90-minute sitting and never touched it again until it was stitched in,

posthumously, to the start of A Death in the Family, his autobiographical novel which was published two years after Agee
'

s death in 1955, to great acclaim and a Pulitzer Prize in 1958. Despite or perhaps because of the improvised nature of the writing, the voice of Agee's text seems to vacillate seamlessly between that of the child-narrator living out a seemingly endless summer evening of his childhood, in safety and domestic bliss, and an adult-narrator remembering with nostalgia and wistfulness those summer evenings long-gone.

This month the Memoir Club is delighted to present Ross Gibson as the guest speaker for our annual Memoir Classic meeting, in which we focus on a work of memoir that has had a profound and continuing effect upon the evolution of the genre.
Ross Gibson is renowned for the 'speculative brilliance' of his work, that combines imagination with recorded history, and 'seeks out the ghosts' that haunt a particular moment—say, Sydney Town after WW2, or a stretch of Queensland highway where bad things happen.
Describing his own work as in a 'composting' phase at the moment, Ross will also share with us the processes and ways in which his own voice always eventually finds a way to push through the 'traditions' that he works with.



James Agee

(1909-1955) was an American author, editor, journalist, poet, screenwriter and film critic. He was born in Knoxville, Tennessee, but lived most of his adult life in New York. His best known works include Knoxville: Summer of 1915, which was set to music for voice by Samuel Barber in 1947; a novel, A Death in the Family (1957), and as screenwriter, the screenplays for The African Queen (1951) and The Night of the Hunter (1954). He was also well known for his work of film criticism for The Nation, which was gathered into collections, Agee on Film I & II.



Ross Gibson

is Centenary Professor of Creative & Cultural Research at the University of Canberra. As part of his research he works collaboratively to produce books, films and artworks, and over recent years has focussed on investigating the use of narrative and private ritual in the comprehension of everyday experience. Selected works include the books Seven Versions of an Australian Badland (2002), The Summer Exercises (2009) and 26 Views of the Starburst World (2012), the video installation Street X-Rays (2005), the interactive audiovisual environment BYSTANDER (a collaboration with Kate Richards) (2007) and the durational work Conversations II for the 2008 Biennale of Sydney. His more recent work has included the serialised photographic poem, AccidentMusic, published online weekly in partnership with the Justice & Police Museum in Sydney (2010-2013).
When:
last Tuesday of every month (28 October, 25 November; then the Memoir Club goes into recess over the summer, and resumes in March 2015)
Time:
6.00 - 9.00 PM (come for a cuppa and help us set up at 5.30 PM - please remember to bring your own cup!)
Where:
The Randwick Literary Institute, 60 Clovelly Road, Randwick 2031. Tel: 02-9398 5203 (for directions and venue info). Street parking available. Clovelly bus 339 on the doorstep. For how to get there, see: http://randwickliteraryinstitute.com.au/faqs/
What:
A communal space to meet other writers and readers and converse about all things to do with reading and writing memoir. We are interested in all kinds of life stories and in different ways of telling them. The genre of life writing and the possibilities of expanding and reworking the genre is exciting to us. Therefore we have a somewhat open and inclusive approach to what makes a memoir, and we hope you do too! Here is a space to connect with others and share ideas, questions and just hang out. Each meeting will start off with a talk, conversation or discussion about a particular topic or book, sometimes with a guest speaker or facilitator, then we move to an informal gathering and catch up.
Donation:
$10 at the door for hall hire, refreshments and speakers.
Food:
$15 for a plate of delicious vegetarian finger food (different each meeting). Ring or text to book a plate: 0450 907 422.
Future Speakers:
Members Night of Readings (October); Fiona McGregor (November)
Look forward to seeing you there! Please do pass information on to anyone who might be interested in this community gathering.
mem·oir /ˈmemˌwär/
Noun. A historical account or biography written from personal knowledge. An autobiography or a written account of one's memory of certain events or people.
"Memories of childhood were the dreams that stayed with you after you woke."
—Julian Barnes
"What happens when we remember? The word itself is telling. Re-member. It stems from two Latin roots: (a) memor: 'to be mindful', and (b) membrum: 'a limb'. When we remember, we bring something back to mind, and we also re-join the separate portions or limbs of a body of knowledge so that the cuts or dismemberments caused by amnesia can be overridden and so that a cohesive vision of past experience can come together momentarily. Furthermore, 'to remember' is closely related to another organic verb: 'to record', which means 'to bring back to the heart'."
—Ross Gibson
"I was greatly interested in improvisatory writing, as against carefully composed, multiple-draft writing: i.e. with a kind of parallel to improvisation in jazz, to a certain kind of 'genuine' lyric which I thought should be purely improvised… It took possibly an hour and a half; on revision, I stayed about 98 per cent faithful to my rule for these 'improvised' experiments, against any revision whatever."
—James Agee